So I'm probably the last person to have realized this was going on, but there is a
Kids Clothes Week Challenge going on over at Elsie Marley
right now. It just so happens that I've had a growing itch to sew some things for my kids...and I'd already been sewing for them Monday and Tuesday anyway, so it's easy to join in.
It's not too late for you to join in too.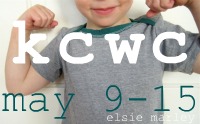 I don't have a full post ready, but here's a little teaser of my first project.