SWAP IS NOW FULL!
So SORRY folks! I love when these fill up fast because everyone is so excited...and I hate it because there's never enough room for everyone. No guarantees about when the next swap will be, but if you fill out this form, you'll automatically be put on the waiting list.
If you're really desperate for some I-Spy squares, I have a couple sets from previous swaps in my Etsy Shop here. (I know it's not as fun as being in the swap yourself though!) I really am sorry.
It's that time again! Several people have been contacting me asking for another swap.
I am switching up a few things this time around with how you sign up, so
PLEASE read the entire post before signing up...even if you'd participated in one of my swaps before.
THE BASICS:

Mail 200 I-Spy squares to me by June 25th.
Get 200 I-Spy squares back, all different, by July 9th.
PLEASE be sure you can meet the deadlines BEFORE you sign up!
THE DETAILS:
1.
Joining 1 swap spot is committing to buying and cutting 1/4 yard of 10 different I-Spy fabrics and mailing them to me within 2-weeks. PLEASE don't sign up if you can't keep this commitment.
2.
For each spot you sign up for, you will need to cut 20 4" squares out of each of 10 different novelty print
100% Cotton Quilt fabrics
(
NO flannel or textured fabric!
). A 1/4-yard cut or fat quarter will get you 20 4" squares, so you will be purchasing a total of about 2 1/2 yards of fabric. This is NOTHING when you think about all the different squares you will be getting back!
3.
In order to avoid duplicates, everyone will need to search out unusual or obscure prints. Look for things that aren't available at chain stores.
But, please, pick FUN ones!
If you love it, the other swappers will love it too! Please upload pictures of your fabric choices to the
Pieces by Polly I-Spy Swap flickr group
as soon as possible after ordering and check
the flickr group
before you place your order. (If you order fabric online, many smaller shops will send you a picture.) If you're not able to post to the flickr group for some reason, email me the picture and I will add it.
4.
Remember that we are looking for fabric with objects on it, not printy-prints. (A fabric with FLOWERS on it is very different from a FLORAL PRINT.)
5.
NO "licensed" prints: No Disney, Dora, L.A. Lakers, etc.
6.
Please be sure you are purchasing HIGH QUALITY QUILTING COTTONS. Pretty much anything you purchase a quilt shop will be high quality. Chain stores (Joanns, Hobby Lobby, etc) have a mix of high quality fabrics mixed in with low quality fabrics, so you really need to make sure you're buying the good stuff (thick, soft, not see through, etc.) Please, Please, Please check out your local quilt shop first.
7.
Remember seam allowances!
Be sure you can tell what you are looking at within a 3 1/2" x 3 1/2" square. Nobody wants only half of an object in their square -- cut them well! (Depending on your fabric choice, you may need to buy more than 1/4 yard in order to get an object into each cut square.)
8.
This is a double swap. You can sign up for a maximum of 2 regular swap spots if you want...but the fabrics for each swap need to be different. (If you have participated in previous swaps, it's okay if you use prints you've used before.)
9.
If you end up one or two squares short of one of your fabrics, it's okay to trade in another fun fabric to replace them. Just make sure you're not putting in duplicates.
10.
If an emergency comes up and you're not able to follow-through with your commitment, please let me know ASAP so someone on the waiting list has time to take your place. You will receive a full refund.
11.
Once you're signed up I'll send you my mailing address for where you send your squares.
PLEASE BE SERIOUS AND

BE SURE YOU CAN MEET THE DEADLINES BEFORE signing up.

I want to make sure everyone gets their squares back in a timely manner.
Sign-ups will work a bit different this time. One of the most time consuming things in the past has been getting all the packages addressed and postage paid for. It's actually a real pain to take 40 packages to the post office and have the lady have to count stamps on the prepaid envelopes...PLUS lots of people ended up putting way more stamps on their envelopes than they needed.
SO...this time to sign up, you'll purchase a spot through my Etsy shop. This is NOT a money maker for me. I'm just charging what it will cost me for postage, envelopes, and Etsy fees, and for most people it will end up being less expensive in the long run for you. (Etsy listing fees get added into the mix, but postage is cheaper via Etsy, so it pretty much breaks even.) I'm charging 75 cents to cover the Etsy Listing fees plus your postage and the price of your return envelope is included in the cost. The price I have listed covers First Class Shipping in a padded envelope for a single swap spot (total of 4.75) and Priority Shipping in a Flat Rate Padded envelope for a double spot (total of 6.50). Since I get postage cheaper purchasing it online, overall this will cost you about the same and printing the shipping labels will be less of a headache for me (I hope!)
And just to get you a little excited, here are my selections all cut out and ready to go. I've particularly been keeping an eye out for purples and oranges because they seem to be the colors I run out of first. I also really love all the realistic food prints that are out there now...
...and I think this math print is one of my favorite prints ever.
So all these squares are up for grabs in this next swap!!
Please show my sponsors some love...
I'll be linking to: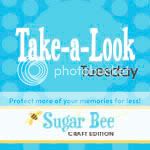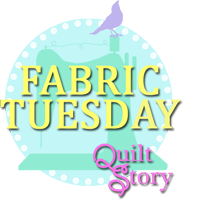 Connect with me on...