I thought I'd just get a couple people responding about
March's Read-Along
, but WOW, this month is going to be
BIG
. I'm really excited about all the blogs involved...some of my favorite bloggy friends who I've been following forever are in...and there are some bloggers who are completely new to me too. I can't wait to see what everyone comes up with.
We've already got most of the days covered...and that's not even counting my own book posts I've been planning. It looks like there may be quite a few days with two posts.
And if you're still wanting to share a favorite children's book, it's not too late. There are still a few spots open. You can scroll down or
go here for more information
.
Even if you're not sharing a book yourself, go ahead and grab a button to let everyone else know.
I thought I'd start off the month a day early by having a book post ready for today...but their are so many more people involved than I expected that I'm spending today pulling the schedule together and getting everything organized.
However,
Heather at Camp Slop
(a bloggy friend from way back who will also be one of our contributers later in the month) is having
Dr. Seuss Week
starting today, so you can head over there if you want to get an early start on Reading Month celebrations.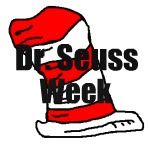 Then, I'll see you here tomorrow as we start Reading Month and our Read-Along...and you might want to bring a
purple crayon
along...