So...I know it's happened to all of us. We see some amazing sweater refashion or T-shirt make-over or SOMETHING...and think it looks AMAZING but wonder how it held up over time. You know, like after it's been washed once...or fifty times.
I've been wanting to go back an revisit some of my favorite Hand-Me-Down REHAB projects for a while, especially now that I'm seeing all sorts of cute spring clothes on the blogs...and my kids current clothes are beginning to look a little short on them. It's just one of those things that I never got around to...until Lorene from
Just Lu
asked me to do a guest post on making clothes last for her Becoming
the Housewife MacGyver
.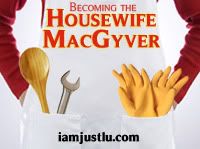 It was the motivation I finally needed to go back and sort through them. I was hoping that I'd have the photo archive on my Hand-Me-Down REHAB page all ready for today. It's not quite there...but it should be soon.
So head over to Just Lu today to see my post about my favorite Hand-Me-Down REHAB projects and techniques
...and there just might be a give-away of one of my favorite appliques over there for you to enter while you're at it.
And on a side note...Can I just say I have some amazing followers?!? I can hardly believe I hit 700 last night!! I had no idea that I'd ever have more than...um...maybe 5 when I started this little blog. Awesome. You all make it fun.