I've been sorting through the kids' clothes as I start the packing process. They each have way more clothes than I need, so I wanted to get pull out anything that doesn't fit or things that are just extra, so we could consolidate dressers and have one less piece of furniture to move. It was a good day for it since I'd just done laundry and nearly all of the clothes are clean. Firecracker has one outfit that's been a problem for a while. It's an outfit she loves. It's a ruffly pink skirt I made for her last Christmas and a pink shirt. The problem is the skirt rides a bit low and the shirt (like a lot I find) is a little short, so if she does much of anything in it we see her tummy. She already has a ton of clothes, so I didn't want to go buy another shirt to match...so what to do.
There are a lot of craft
bloggers
who do all sorts of cool things with T-shirts, so I thought I'd try a little experiment...and this is how it turned out...
I'm really happy with it. I haven't sewed much with knits, and was a bit worried I'd make it pucker funny or something. This is what we started with.
The shirt with the roses is just as short as the pink one, so it wouldn't work to just pair that with the skirt.
So this is how I did it. First I compared the bottoms of the two shirts.
The rose shirt has a little narrower, so I turned the pink shirt inside out and drew some sewing lines to bring the sides in just a bit, so the openings for the two shirts would match. I also pinned them, so they wouldn't shift as I sewed them.
Then I sewed them and trimmed off the extra.
Then I laid the pink shirt over the rose one, carefully matching up the side seams to see how long I wanted it.
For this one, it ended up with about 3 inches showing. I measured up about 4 inches and marked with a pen. You'll want to measure in several places in case the shirt isn't laying quite even on your workspace.
This was because I wanted to sew along the previous hemline on the pink shirt and wanted some extra for a seam allowance. Here comes the really scary part...the point of not return...I cut it.
Then I pinned the white strip to the pink shirt, using the measuring tape to make sure it got pinned on evenly all the way across.
Then I carefully sewed it in place along the original stitching line on the pink shirt...and it's done. Start to finish I think it took about 45 minutes. If I were to do it again, it would be a lot faster.
Hubby and I are very pleased with it. Firecracker woke the outfit all day, and we didn't see that cute tummy of hers once.
Yeah! Firecracker is pleased with it I think. It's kind of bitter-sweet for her. She likes the improvement in her pink shirt, but wasn't happy to sacrifice another shirt for it. Firecracker is attached to every article of clothing she owns (well, at least she says "I that one! It's my favorite!" if anything is going to be passed on to a cousin or land in the trash can).
I'm undecided about what to do with the remainder of the rose shirt. I could try to remake it into a dress or shirt for Sweet Pea...but that would be a lot of work and Sweet Pea doesn't really need any more clothes...especially short sleeved summery ones. I'm considering making something
like this
with scraps from old clothes. I can't bring myself to cut up clothes that could still be used and passed on to someone...but some of the kids' clothes end up stained enough that they're not really nice enough to pass on, but they could make some good "I Spy"s. We'll see.
I'm linking this to Roadkill Rescue on
Infarrantly Creative
...note that the pink shirt was a hand-me-down and the rose shirt was a gift.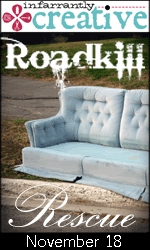 I'm also limkimg up to: