This I-Spy Swap is now full! It will probably be a while before I host another swap, but if you are interested in future I-Spy Swaps, you can fill out the form at the bottom of this post to be notified by email next time there is a swap. Filling out the form DOES NOT guarantee a spot in the next swap.
It's that time again! (Please read the entire post before signing up...even if you'd participated in one of my swaps before.)
If you're really desperate for some I-spy squares, I've got a couple sets listed for sale here:
200+ I-Spy Charm Squares Set - From Pieces by Polly Quilts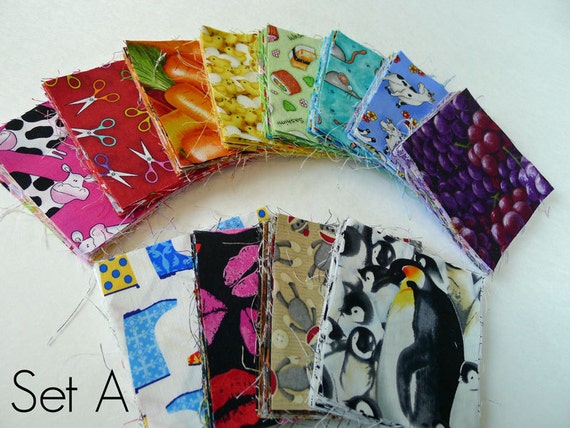 Truth be told...I don't really need anymore I-Spy squares at the moment...but I'd promised quite a few people that we'd be having another one soon, so I thought we'd go ahead and do one more in time for you to get squares if you need them for Christmas gifts.
Plus, Patty from
You Keep Me in Stitches
has generously offered to be the official sponsor of this swap. She has lots of fabric, including enough I-Spy fabrics to fill two spots to provide squares for quilts to be donated to Katie's Comforters who provides handmade quilts and blankets to the children of Seattle Children's Hospital. Patty still has lots of
I-Spy fabrics left to choose from in her shop
, so be sure to stop by and take a peak.
I've made quite a few I-Spy quilts and other I-Spy projects this year and I can definitely say, they're fast, easy, and kids LOVE them.
And speaking of Christmas...I thought we'd throw in a I-Spy Christmas Half-Swap if you're interested in getting some Christmas themed squares.
And as a little sneak peak...I'll have another I-Spy project ready to show you soon. Becca and I have been finishing a themed quilt up this week.
THE BASICS:

Mail 200 I-Spy squares to me by Sept. 30th.
Get 200 I-Spy squares back, all different, by October 10th.
PLEASE be sure you can meet the deadlines BEFORE you sign up!
THE DETAILS:
1.
Since this is the last swap I'll be doing for quite a while, and the last swap filled up so quickly that some people didn't get in, I'll do my best to keep sign-ups open for at least 2 days, even if it means opening up a third swap.
2.
For each spot you sign up for, you will need to cut 20 4" squares out of each of 10 different novelty print
quilt fabrics
(
NO flannel or textured fabric!
). A 1/4-yard cut or fat quarter will get you 20 4" squares, so you will be purchasing a total of about 2 1/2 yards of fabric. This is NOTHING when you think about all the different squares you will be getting back!
3.
In order to avoid duplicates, everyone will need to search out unusual or obscure prints. Look for things that aren't available at chain stores.
But, please, pick FUN ones!
If you love it, the other swappers will love it too! Please upload pictures of your fabric choices to the
HLH I-Spy Swap flickr group
as soon as possible after ordering and check
the flickr group
before you place your order. (If you order fabric online, many smaller shops will send you a picture.) If you're not able to post to the flickr group for some reason, email me the picture and I will add it. Please put Swap 4 somewhere in the picture title, so there will not be confusion with our last swap. I'll be deleting the previous swaps pictures soon.
4.
Remember that we are looking for fabric with objects on it, not printy-prints. (A fabric with FLOWERS on it is very different from a FLORAL PRINT.)
5.
NO "licensed" prints: No Disney, Dora, L.A. Lakers, etc.
6.
Remember seam allowances!
Be sure you can tell what you are looking at within a 3 1/2" x 3 1/2" square. Nobody wants only half of an object in their square -- cut them well! (Depending on your fabric choice, you may need to buy more than 1/4 yard in order to get an object into each cut square.)
7. This is a double swap. You can sign up for a maximum of 2 regular swap spots if you want...but the fabrics for each swap need to be different. (If you have participated in previous swaps, it's okay if you use prints you've used before.)
CHRISTMAS HALF-SWAP:
7. For the Christmas Half-Swap, you will send in 20 squares of 5 different Christmas/Winter themed squares for a total of 100 different squares. You can sign up for 2 spots in the same swap. I really don't know how much interest there will be in a themed swap, so if this swap doesn't completely fill up, then I will swap with the fabrics I have and you may end up with some duplicates. If you sign up for 2 spots, you must send in different fabrics for each spot, but you would end up receiving a 2 of the same sets of 100 in return, since there will be just a single Christmas swap.
8.
If a swap doesn't completely fill up, then I'll swap with the squares I have and you may end up with a few duplicates.
9.
Same general rules apply as for a regular swap...keep it quilting fabric, no licensed prints, etc.
Please read the guidelines before signing up!
PLEASE BE SERIOUS AND

BE SURE YOU CAN MEET THE DEADLINES BEFORE signing up.

I want to make sure everyone gets their squares back in time for Christmas gifts, so if I don't receive your squares on time, you will miss out.
Please show my sponsors some love...